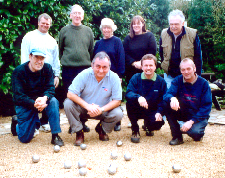 ROSE AND CROWN PENTANGUE TEAM
The pub landlady Lyn Fowley has introduced two pitches for the playing of Pentangue.
It began last March, (2001) and there are two winter teams. The game has attracted some 20 players and two teams are entered in the Rhubarb League and the Lucas SS League. The competition for the trophies begins in April. Chairman of the Lucas SS League is Jeff Smith from Pin Green, Stevenage, Seen on extreme right, back row.
The Beane Valley in February 2002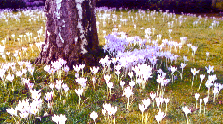 SPRING ARRIVES EARLY IN ASTON

ELIZABETHAN COTTAGE
Used to be part of Aston End but is now part of Stevenage New Town
Aston's trees have been positively glowing with Autumn colours. Due to a mild November. I can't remember an Autumn like it! Wonderful!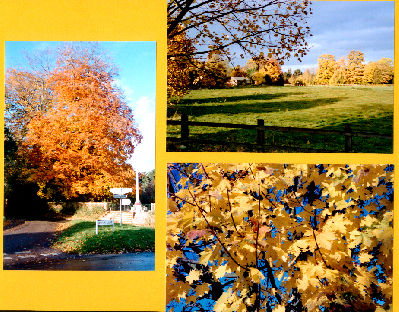 ASTON BRANCH ROYALBRITISH LEGION IS CLOSING DOWN
The 'Colours' was paraded for the last time on Sunday 11 November 2001.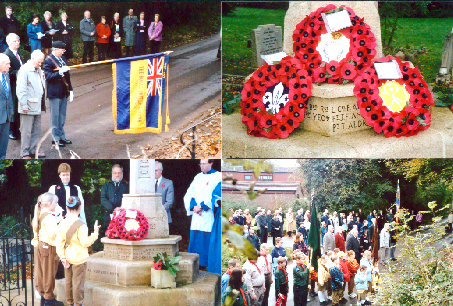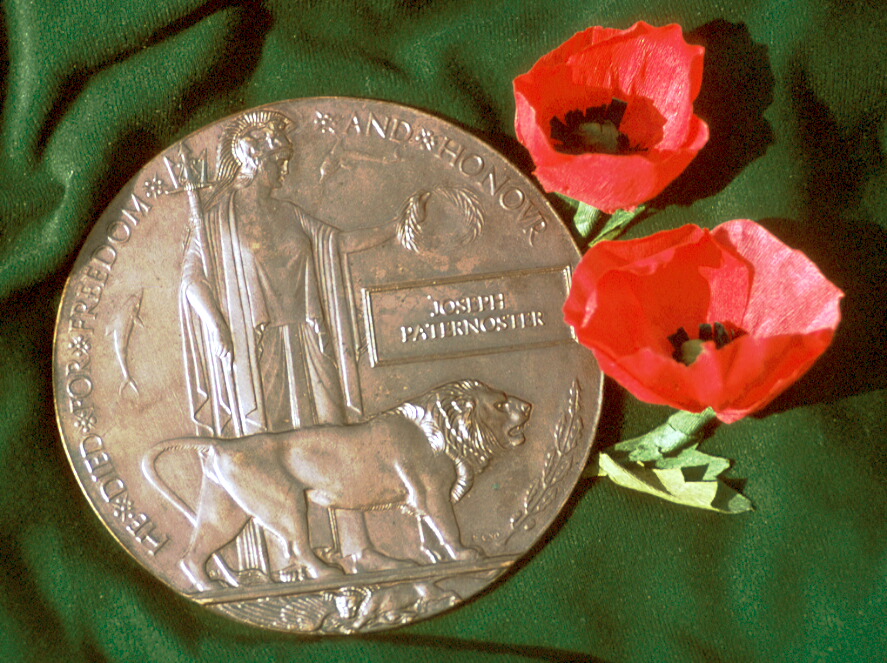 Aston lad, SERGEANT JOSEPH PATERNOSTER was killed at Givenchy, France on June 16 1915, aged 30. There is no known grave.
Bronze plaques made from metal salvaged from WWI guns were issued to the next of kin. They were commonly known as 'Death Medals'.
I am indebted to the late Mrs. Rowe who gave these items to the collection.





JOHN CHARLTON
Died of Influenza,
28 February 1919, Aged 28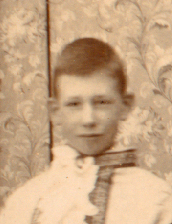 HENRY JAMES WILSON
Died, possibly of Dysentery
16 October 1918
Aged 23

I have discovered pictures of two more of our 'Aston lads' who died in WWI. Not by the bullet but of disease. These portraits are taken from an Aston School pantomime, in the old Parish Room circa 1903. I guess John Charlton is about 12 and Harry Wilson about 8 years old.

Can you help PLEASE?
I need photographs for the collection of those who served and of the other lads who died.
Their names are:
ALDRIDGE, T Pte. Middlesex Regiment
ALLEN, F L/Cpl Grenadier Guards
ANSELL, James Frederick Pte. Sherwood Foresters
CANFIELD, Thomas Charles Pte. Beds. Regt.
CARTER, G.A. Pte. Est Lancs. Regt.
DRAPER, Henry Cpl. Machine Gun Corps (Inf.)
DRAPER, E.A. Pte. Essex Regt.
EYDEN, William Harmer Pte. Grenadier Guards
GREGORY, Alexander John Cpl. Royal Berkshire Regt.
GATES, W Driver. Royal Field Artillery
PALLETT, Edwin Henry Pte. Royal Lancs.Regt.
PARKER, C.F. Sgt. Beds. Regt.
BYGRAVES, David Pte. Gloucestershire Regt.

My thanks to the late Mrs Jennie Spicer who donated the
Photograph and identified the children and to Ted Wykes
for his publication 'Aston War Memorial'.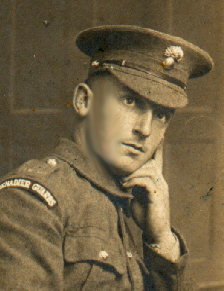 LANCE-CORPORAL FRED ALLEN
Died Friday 12 April 1918
No Known Grave


Through sheer good fortune and the kindness of Win Beadle who now resides in Liskeard, Cornwall. I have received a picture of another Aston Lad- Fred Allen and unbelievably a newspaper cutting of the time, which reads:

GUARDSMANS SACRIFICE
ASTON SOLDIER FALLS HOLDING THE LINE

'Mrs. Allen of Aston, has been informed of the death in action on April 12 of her husband, Lance-Corporal F. Allen Grenadier Guards.
Lance-Corporal Allen was one of the gallant Guards who held the line for forty-eight hours at the cost of their lives until a reinforcement of Australians reached them. He went to France nine months ago, and when the German offensive opened he was expecting to come home on leave previous to training for a commission for which he had been recommended. Sympathy is extended to his widow and baby boy'.

Mrs. Ethel Wilson, nee Canfield was Win Beadles aunt. I phoned Win telling her I had discovered a picture of her aunt when she was at Aston School and also that her Guardsman husband had died in the war. She said "I've got a picture of him, I'll send it to you". Thank you so much Win.
Here is the picture of Ethel at Aston School, performing in a pantomime circa 1904. John Charlton and Henry Wilson, see above, were in the same cast.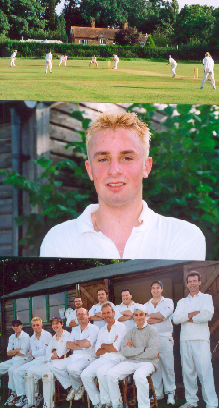 ASTON CRICKET TEAM
Henry Edney, pictured centre, scored 91 Not Out off 48 balls to help win the match
against Codicote on 19 August. Eddie O'Hanlon took 4 wickets for 29. Aston's total was 236 for 6 declared and they won by 73 runs.




ASTON IN THE SNOW
Top: The Rose and Crown
Centre: St Mary's Church
Bottom: The Coach House
PHOTOS: Taken 28 December 2000

Will Canfield. March 2001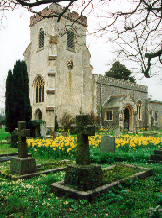 Aston St. Mary's. March 2001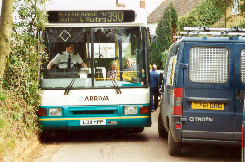 Aston's bus has problems getting through all the extra traffic.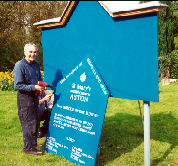 Come and join us! New sign for the church. March 2001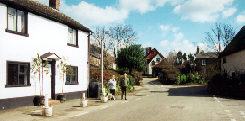 Centre of the village. Rosemary Howe and Nigel Paine look on.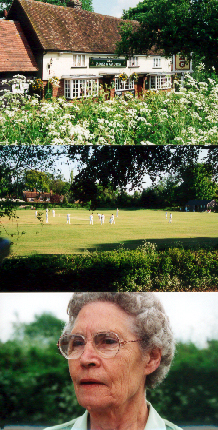 The Rose and Crown with Cow Parsley- Cricket on Centre Field and Doris Dowler. May 2001. Sadly Doris died in 2006. RIP


JULY/AUGUST
One of the largest trees in Aston gets the chop.
This 200 year old Ash had reached the end of its life and was literally taken apart as there was no room to drop it in Aston Lane.

The new Millennium village sign was unveiled in July.
The winning design is by Margaret Moreham.(See also Village Mourns page.)